Welcome to the Pianola Partnership's website.
Here you will find news of the concerts and other activity undertaken by the partnership, as well as background information about the Pianola instrument and its great versatility.
***
In November 2017 Michael was invited by the then Lord Mayor of London, Alderman Sir Andrew Parmley, to play at the Mansion House. To the delight of the audience, Sir Andrew recited The Jubilee Sov'rin (made famous by Stanley Holloway) with Michael's musical acccompaniment.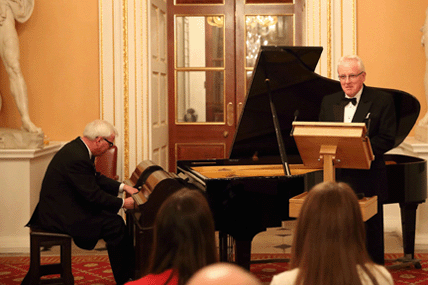 Afterwards, Michael explained the technique of playing the Pianola.

Pictures: Mike Williams
Michael Broadway's concert at St Paul's Cathedral in July 2017 was a marvellous occasion, with the dome seating full up. Michael was joined by organist Peter Holder, a fantastic player, to give a performance of the Rachmaninoff 2nd Piano Concerto. (Peter is now sub-Organist at Westminster Abbey).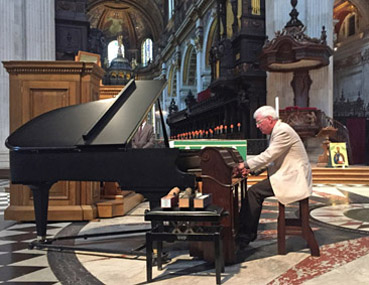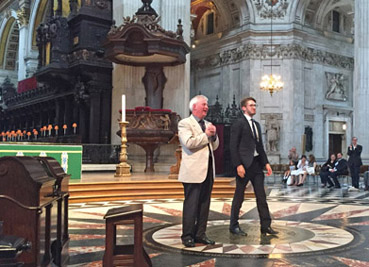 Pictures: John Norman
***
Michael works with several musicians, composers and actors including:


Vaninne Parker, soprano
Vaninne Parker studied at the Royal Academy of Music, where she won major awards. She has sung for the English Music Theatre Ensemble, Scottish Opera and Kent Opera, where she was also a leading contributor to the company's education programme. Roles for this included Countess (Figaro), Alice (Falstaff), 2nd Lady (Magic Flute), Miss Jessel (Turn of the Screw), Lucy Lockit (Beggar's Opera), and Agrippina. Following a Wigmore recital debut, Vaninne has long enjoyed a wide variety of concert and oratorio commitments in London and the south-east, singing works as diverse as Charpentier's Te Deum, the Bach Passions and B Minor Mass, the Poulenc Gloria, Mozart's C Minor Mass and Britten's Ceremony of Carols. At the Millennium, she was a soloist in the world premier of Alan Bullard's Prime Meridian.


Richard Suart, Baritone
Richard was born in Lancashire, and studied at St John's College, Cambridge, and at the Royal Academy of Music.
He began his operatic career with the English Music Theatre Company and Opera Factory, and is now much sought after, particularly in music theatre, contemporary opera and as a comedian in the more standard repertoire.
Recent engagements include Pangloss
(Candide)
with the LA Philharmonic Orchestra at the Hollywood Bowl, Mr Walter
(After Life)
in the Holland Festival, with L'Opéra National de Lyon and at the Barbican,
Playing Away
in Bregenz and St Pölten, French Ambassador
(Of Thee I Sing
), General Snookfield
(Let 'Em Eat Cake)
and Barabashkin
(Paradise Moscow)
at Opera North and in Bregenz, Baron Zeta
(The Merry Widow)
, Lesbo
(Agrippina)
and Ko-Ko
(The Mikado)
at ENO, The Mayor
(Jenufa)
for Opera Holland Park, Lord Chancellor
(Iolanthe)
with the San Francisco Symphony, Don Jerome
(The Duenna)
for English Touring Opera,
The Tell-Tale Heart
at ROH2,
Salad Days
at The Riverside Studios and the Judge
(Trial by Jury)
for RTE in Galway and Dublin.
John Blood
John studied composition, piano and cello at the Royal Academy of Music in London where he won the Eric Coates composition prize. To pay the bills, John also found work in films - as a pianist in Lady Chatterley's Lover and in an advert for Pot Noodles. Later, Sir Arthur Bliss's widow gave him the job of cataloguing the great man's private music collection and provided the surroundings for him to work on his own compositions. Freelance work for the music publisher Novello followed. He's now a director of Gonzaga Music.
Among his many creations are Sonatina, Nor'wester Caprice, Dark Scenes of Winter, the ballet Little Boy Lost and a concerto for trumpet, oboe and strings, Boreas. He was commissioned to write for the 1981 St Ives Festival in Cornwall. Other work includes The Christmas Card, Periwinkle Duo, Viente Divertissement, Babar the Elephant, Manton Heights, The Christmas Express, Esthwaite Elegy, and for the pianola: The Witches of Hawkshead - Tarantella Diabolica.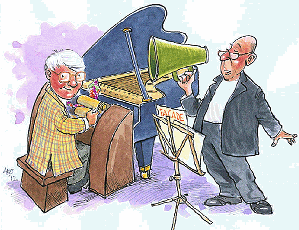 Michael Broadway and Bill Bingham at the
2002 Three Choirs Festival in Worcester.
© Anthony Seldon
These links will take you to YouTube audio recordings by Michael:
The first movement of Benjamin Dale's Piano Sonata in D minor.
Presto from Moritz Moszkowski's From Foreign Lands, Op. 23 - II. Italian.
... and these links to recent videos:

Claude Debussy - Suite Bergamasque no 3

Leo Livens - Three Studies

Roger Quilter - Three English Dances

Nicolai Rimsky-Korsakov - Flight of the Bumblebee
There's more information on other pages of this website, or you can telephone the Partnership on
020 7254 6145.
Watch this space for news of music rolls and other items you will be able to purchase through the Pianola Partnership.


(Website updated: 14 October 2019)