MICHAEL BROADWAY
Michael Broadway received his musical education at the London College of Music, studying the organ with Gordon Phillips, and the viola da Gamba with Nathalie Dolmetsch.
After being given a player-piano, he has since made extensive studies of the several different patent actions, rebuilding and restoring many instruments.
Since graduating he has worked as an organ-builder. Among the instruments in his care are those at:
- The Queen's Chapel of the Savoy
- St Mary-le-Bow, Cheapside
- St.Paul's Cathedral (for Mander Organs)
- The recently rebuilt Willis/Harrison instrument at the Royal Albert Hall (also for Mander Organs). In 2018 he was appointed Organ Custodian.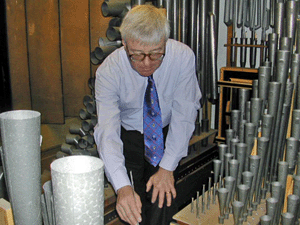 Tuning for the Proms, 2008
This video shows Michael at work at the RAH instrument
Michael was invited to take part in the Grand Organ Celebration at RAH on 15 May 2018. A full house enjoyed performances from David Briggs, Olivier Latry, and Wayne Marshall, and Michael gave a guided tour of the inside of the organ relayed by video to the auditorium.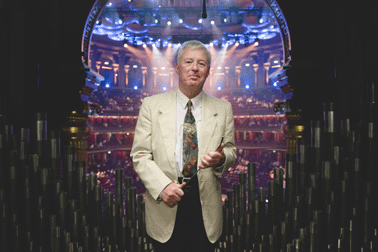 Photo: Andy Paradise
His Pianola performances in the UK have included the South Bank, the Barbican, St John's, Smith Square, a duet recital with Thomas Trotter at Symphony Hall Birmingham, and the Royal Concert Hall, Nottingham. Broadcasts include two programmes devoted entirely to the Pianola on Radio 3, Radio 4 and BBC2.
In Europe he has performed in Rome, Prague, Budapest, and in Venice for La Biennale di Venezia.
In 2002 he was invited to play at the Three Choirs Festival in Worcester.
Michael regularly accompanies the soprano Vaninne Parker.
Michael Broadway lives in London with his wife Frances. In 1981 he was elected a Fellow of the Royal Society of Arts, and in 1983 he became a Freeman of the City of London, being admitted as a Liveryman of the Worshipful Company of Glaziers and Painters of Glass. He is a member of the Court of Assistants, Honorary Musician to the Company - he served as Master in 2013 and Deputy Master in 2014.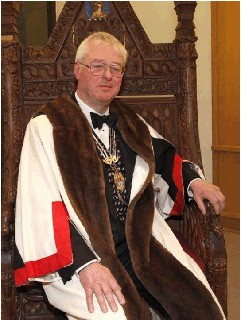 In 2001, he became a Liveryman of the Worshipful Company of Musicians, and in 2008, having been elected as Parish Clerk for West Hackney, he was admitted to the Worshipful Company of Parish Clerks. In July 2019 he was installed as Under Warden.
Michael was included in a series of photos shown at London's City Hall in 2010 entitled Working Lives of London.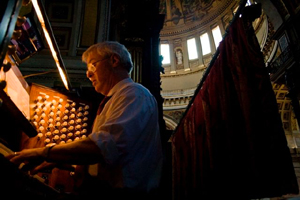 St Paul's, 2009
The exhibition was compiled by the photographer Harriet Armstrong.